Höhlen in Frankreich

Grottes des Echelles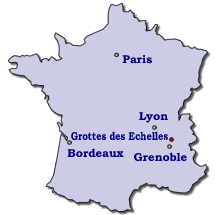 27 km nördlich von Grenoble


Kurzinfos

Adresse
Grottes des Echelles
O.T. BP2
73360 Les Echelles
Tel: +33-479365624
Fax: +33-479365312


Geöffnet
From Easter to All Saints day
Open on week-ends or public holidays from 10 AM to 6 PM
(the last visit starts at 4:30 PM)
Form June 12 th to September 05 th
Open every day from 10 AM to 7 PM
(the last visit starts at 5:30 PM)
For other periods
Reservations can be arranged for groups

Erwachsene 6 Euro
Kinder 4 Euro
Gruppen je Person 5 Euro

Führung
Warne Kleidung mitbringen.
Letzte Führug 1.30 Uhr.

Beleuchtung


Länge der Höhle


Historie


Beschreibung
In the Regional Nature Park of the Chartreuse, a listed site steeped in history, you will marvel at these amazing caves, carved out by underground rivers, with its huge chambers full of potholes and concretions, such as the "Dome of Mont Blanc".