Höhlen in Frankreich

Grottes de Choranche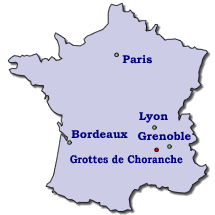 A7 Ausfahrt Valence
A48/A41 Ausfahrt Grenoble


Kurzinfos

Adresse
Grottes de Choranche
BP 7
F-38680 Pont en Royans
Tel: +33-476360988
Fax: +33-476361191
E-mail: info@choranche.com

Geöffnet
Ganzjährig
NOV-MAR 10:30-11:30 / 13:30-16:30, tour every hour.
APR-JUN SEP-OCT 9:30-12 13:30-18, tour every half hour
JUL-AUG 9-18:30,tour every 20 min.

Führung
60 Minuten

Beleuchtung
Elektro

Länge der Höhle
15 km

Historie
07-SEP-1897 large cave parts discovered by the speleologist Oscar Descombaz.
05-DEC-1965 cave purchased by Gilbert Mantovani and two friends.
Winter 1966/1967 road to the cave built, first electric light with generator and entrance buildings. Development of 300 m of passage.
1975 a power line to the cave alows the development and lighting of 300 m more.
1985 an artificial tunnel allows year round access to the cave.
1987 a second artificial tunnel itergrates the Cathedral into the tour.
1989 new entrance building.


Beschreibung
The Grotte de Choranche is accessible to the public since 1965. But at this time, a walk of 45 min. or a ride on a mule from the village of Choranche, was necessary to get to the cave entrance. At this time there was no electric light in the cave, the tours were made with carbide lamps. But only two years later the first electric light, powered by a generator, lit some parts of cave. A new road allowed easy access to the cave entrance.
The first chamber of the cave is also the largest chamber of the visit, although the Cathedral is also very impressing. The first chamber (La salle principale) is 60 m in diameter and up to 18 m high.
The cave shows several nice formations. The most impressive is a huge pilar in the Galerie du Siphon.
But the highlight of the cave are cave olms (Proteus anguinus), which are originally from Slovenia. They were freed in the cave by the C.N.R.S. (Laboratory of Moulis) for breeding.